Meet Our Team

Our team we strive to bring a higher quality of work into all of our customer concepts. Meet the team...
Mike Holub
Owner, Operator, Piercing Artist
Michael Holub, attended The College of New Jersey receiving a BA in Advertising Design with a specialization in illustration. Enrolled in a tattooing apprentice under the tutelage of Alfonzo Gotfried Fox at The Big Easy Tattoo studio in the year of our Lord 1900 and 96. Opened and has operated First Place Tattoos in Hackettstown since 1998. As part owner and operator of evolvInk Tattoo Studios, he intends to raise industry standards concerning health, service, experience and artwork.
Kevin C.
Lead Tattoo Artist
With a BA in fine arts, life drawing concentration from Monclair State, Kevin brings creativity, accuracy and a knowledge of the human body to the tattoo industry. Nine years of tattooing experience gives Kevin a solid foundation for whatever design or subject customers are looking for.
Karina
Tattoo Artist
PH Bio
Johnny Saccone
Tattoo Artist
I'm a self taught artist from New Jersey. I have always been inspired by street art, Salvador Dali, and the tattoos I have collected. I knew from a young age I wanted to have a career in the art field. I just didn't know which, until got my first tattoo when I was 16. I've had about fifty jobs, but none of them ever being able to hold my attention for more than a few weeks. Tattooing has be the complete opposite, I finally found a job that I love and am passionate about. Everyday I make it my goal to learn something new, to continue to grow as an artist.
Nakim C.
Tattoo Artist
Tattooing since 2013, a recent addition to the team. Specializing in lettering
PH thoughts
Kaitlin Butler
Tattoo Artist
Graduated from the Art Institute of Boston (now known as Lesley University College of Art and Design) with a bachelor's degree in fine arts. In my studies I found tattooing/body modification constantly surfacing as subject matters in my artworks and eventually based my thesis on Renaissance styled, heavily tattooed portraiture. After a short lived career in art galleries, I began apprenticing with Mike at Evolvink. I have been eagerly working towards a career in tattooing that can incorporate my stylistic love for painting, portraiture and realism, and also enjoy doing American traditional and blackwork.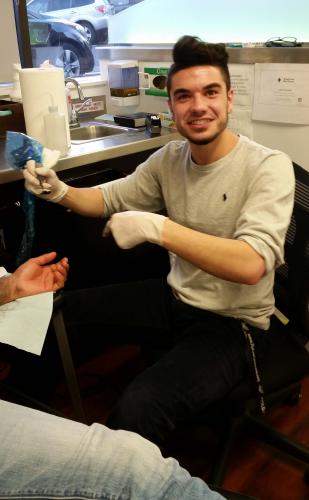 Justin Sandelli
Tattoo Artist
A young daredevil with a 'go get em' atitude and a 4th grade education.